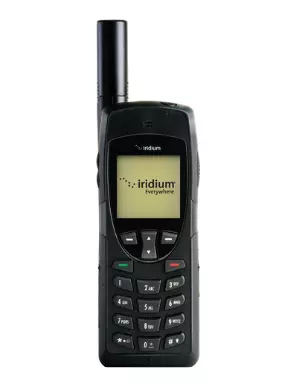 Rental Rates for Iridium 9555 Satellite Phone
(0-14 Days) $23 per day
(15-28 Days) $20 per day
(29 Days+) $18 per day
(3+ Months) $13 per day
Iridium 9555
SATELLITE PHONE
Rent A Sat Phone brings you the ever reliable and much sought after Iridium 9555 Satellite Phone.

With an easy to use interface and a simple but sleek design, the Iridium 9555 is the most popular Iridium satellite phone in Australia. It's still incredibly rugged but easier to use to withstand even the harshest climates.

What You Can Use this Portable Satellite Phone For
This compact sat phone can be used for any endeavor in the harshest environments. These may be a better option than a traditional phone if you need to be assured of a constant per-minute rate and reliable connectivity wherever you go. Stay connected on your cruise, business trip, fishing expedition, wilderness adventure, and much more.

Upgrade to the Iridium 9575 Satellite Phone
An alternative to the Iridium 9555 sat phone is the new Iridium 9575 Extreme sat phone handset, Check it out the Iridium 9575 satellite phone Here This option offers fully integrated services including customisable GPS, online tracking, and the emergency notifications to personalised contacts.


Deal Includes
Car / truck charger
Mobile magnetic antenna
240 Volt Wall Charger
Usb data cable
Hands Free Ear piece
Leather Phone Case/holder
Adapters and accessories for all international destinations (upon request)
Quick-Start User Guide / Full user manual on disk
Accessories available (Contact Customer services for availability & Charges)
Spare Battery
Waterproof Pelican case
Rental handsets don't require an additional plan, Calls made from the phone charged as follows:
| | |
| --- | --- |
| Call Type | Call rate per 30 seconds |
| Calls to Fixed/mobile services in Australia | $1.50 |
| Call forwarding | $1.50 |
| Voicemail | $1.50 |
| SMS | $1.00 per standard text |
| Calls to international | $2.50 |
| Roaming outside Australia – outgoing and incoming calls | $2.50 |
| Other satellite | $10.00 |
Airtime Plans (for purchased handsets)
Prices exclusive of GST

| | |
| --- | --- |
| 100 Minute - 1 Month Validity | $255.00 |
| 200 Minute- 6 Month Validity | $875.00 |
| 300 Minute - 12 Month Validity - not able to be recharged | $1050.00 |
| 500 Minute - 12 Month Validity | $1240.00 |

| | |
| --- | --- |
| Top Ups For 75/500 minutes users only - One Month extension | $90.00 |

| | |
| --- | --- |
| SMS to the Satellite Phone | $FREE |
Iridium Post Paid - Local number plan - 12 month minimum duration
Benefits those who expect to receive calls to the sat phone. (Prices exclusive of GST and call charges are per 60 seconds)

| | |
| --- | --- |
| Activation Fee | $40.00 |
| Monthly Access Fee | $54.55 |
| Flagfall | $0.00 |
| Iridium to PSTN or Mobile per 30 seconds | $0.90 |

| | |
| --- | --- |
| Data Call (within Australia) | $0.90 |

| | |
| --- | --- |
| Outside 200 nm rate (note: incoming calls also charged while overseas) | $1.13 |

| | |
| --- | --- |
| SMS Messaging from the Satellite Phone | $1.00 |

| | |
| --- | --- |
| SMS to the Satellite Phone | $rate determined by originators provider |

| | |
| --- | --- |
| Other Satellite Networks | $12.50 |

| | |
| --- | --- |
| Inbound call to Voicemail | $0.90 |
Iridium Post Paid Global Plan
Full Global rates whilst abroad - (Prices exclusive of GST and call charges are per 30 seconds)

| | |
| --- | --- |
| Activation Fee | $40.00 |
| Monthly Access Fee | $85.00 |
| Flagfall - Connection Charge | $NIL |
| Iridium to PSTN or Mobile * | $1.25 |

| | |
| --- | --- |
| Iridium to other satellite networks | $14.00 |

| | |
| --- | --- |
| SMS to the Satellite Phone | $FREE |
Iridium 9555 Specs
Handset Specs

Iridium 9555 - Iridium's Smallest Satellite Phone Ever!
Features Compact physical footprint for streamlined portability Intuitive user interface for out-of-the-box functionality Water, shock and dust resistance for unparalleled durability
Enhanced SMS and email messaging capability
Integrated speakerphone Headset and hands-free capability
Internally stowed antenna
Mini-USB data port
Specifications Dimensions: 143 mm (L) x 55 mm (W) x 30 mm (D) Weight: 266g (9.4 oz)
Duration Standby time: Up to 30 hours Talk time:
Up to 4 hours Calling
Features Integrated speakerphone
Quick-connect to Iridium voicemail
Two-way SMS and short email capability
Pre-programmable International Access Code (00 or +) Mailbox for voice, numeric and text messages
Selectable ring and alert tones (8 choices)
Download Full Specs Brochure HERE
Video & Downloads
Downloads
Iridium 9555 Quick Start Guide