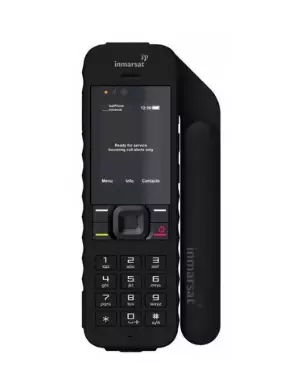 Rental Rates for ISatPhone 2 Satellite Phone
(0-14 Days) $20 per day
(15-28 Days) $17 per day
(29 Days+) $15 per day
(3+ Months) $ 10 per day
Inmarsat Isatphone 2
Perfect For Hikers or Holiday Makers
Inmarsat, the world's most reliable satellite network, brings you the most Ready, Reliable, and Robust satellite phone to date. The next generation Isatphone 2 is here.

Inmarsat Prepaid Sat Phone - More Value for your Money!
The Isatphone 2 is the newest offering and the latest in the next generation of Satellite phones from Inmarsat. World leaders in satellite communication and satellite data transfers. Although the Isatphone Pro 2 satellite phone has improved and more advanced features than its cheaper option, Inmarsat have been very careful to price the new Isatphone Pro 2 sat phone handset aggressively. This has resulted in incredible value for money while being complemented with the complete flexibility of the Inmarsat prepaid no contracts sim card option, making it an immediate winner.


Inmarsat Satellite Phone Features
This is the only global handheld satellite phone which supports Bluetooth. With heaps of new features including receiving text messages whilst the aerial is down.
Main features: Dependable Connectivity, voicemail, text and email messaging, Tracking, High Voice quality, and GPS location data.
Easy to use: Intuitive GSM-style interface. High-visibility colour screen. Larger keypad for easy dialling with gloves on.
Reliable network connectivity: Communicates via global geostationary satellites offering significantly fewer call dropouts.


Deal Includes
Features
Tracking
Assistance (Man Down) button
Enhanced pointing help via eCompass
Alarm
Minute minder - in-call-alert
Micraphone Muting
Contact Synchronisation
With MS Outlook 2007(PC) O/S Compatibility:Windows XP Pro, SP3, Windows Visat Sp1, Windows 7 and Windows 8
What's in the Box
Car / truck charger
240 Volt Wall Charger
Adapters and accessories for all international destinations (upon rental request only)
Quick-Start User Guide /
Holster
Accessories available (Contact Customer services for availability & Charges)
Spare Battery
Waterproof Pelican case
Rental handsets don't require an additional plan, Calls made from the phone charged as follows:
| | |
| --- | --- |
| Call Type | Call rate per 30 seconds |
| Calls to Fixed/mobile services in Australia | $1.50 |
| Call forwarding | $1.50 |
| Voicemail | $1.50 |
| SMS | $1.00 per standard text |
| Calls to international | $2.50 |
| Roaming outside Australia – outgoing and incoming calls | $2.50 |
| Other satellite | $10.00 |
Airtime Plans (for purchased handsets)
Inmarsat Isatphone Pro/2 - Pre Paid Airtime
As of 1/7/16 prepaid validity has changed. Prices are exclusive of GST. Initial sim card additional $30

| | |
| --- | --- |
| 1 Month Extension – Validity 30 Days - Needs existing credit on handset | $63.00 |
| 50 Unit Sim Card – Validity 30 Days | $99.00 |
| 100 Unit Sim Card – Validity 90 Days | $180.00 |
| 250 Unit Sim Card – Validity 180 Days | $380.00 |

| | |
| --- | --- |
| 500 Unit Sim Card – Validity 365 Days | $635.00 |

| | |
| --- | --- |
| 1000 Unit Sim Card – Validity 365 Days | $1045.00 |

| | |
| --- | --- |
| 2500 Unit Sim Card – Validity 365 Days | $2625.00 |

| | |
| --- | --- |
| 5000 Unit Sim Card – Validity 365 Days | $5225.00 |

| | |
| --- | --- |
| SMS to the Satellite Phone | $FREE from website |
Inmarsat Post Paid Airtime Plans
Basic Emergency Plan 1 month minimum (Prices exclusive of GST and call charges are per 30 seconds)

| | |
| --- | --- |
| Activation Fee | $40.00 |
| Monthly Access Fee | $55.00 |
| Fixed landline - PSTN | $0.90 |
| Mobile / Cellular | $0.90 |

| | |
| --- | --- |
| SMS to the Satellite Phone | $FREE |

| | |
| --- | --- |
| Other Satellite Networks | $6.00 |
Inmarsat Isatphone Pro - Business Post Paid Plan
Business Plan "60" Includes $60 worth of calls monthly. (Prices exclusive of GST and call charges are per 30 seconds)

| | |
| --- | --- |
| Activation Fee | $27.00 |
| Monthly Access Fee - Includes 60 free minutes of talk time | $99.00 |
| Flagfall - Connection charge | $NIL |
| 60 minutes of talk time monthly | $NIL |

| | |
| --- | --- |
| Fixed landline - PSTN | $0.90 |

| | |
| --- | --- |
| SMS Messaging from Satellite Phone | $0.50 |

| | |
| --- | --- |
| SMS to the Satellite phone | $FREE from website |

| | |
| --- | --- |
| Other Satellite Networks | $6.00 |
Inmarsat Isatphone Pro - Global Post Paid Plan
Global Airtime Plan - Worldwide Coverage (Prices exclusive of GST and call charges are per 30 seconds)

| | |
| --- | --- |
| Activation Fee | $99.00 |
| Monthly Access Fee | $55.00 |
| Flagfall - Connection charge | $NIL |
| Fixed landline - PSTN | $1.15 |

| | |
| --- | --- |
| SMS Messaging from the Satellite Phone | $1.00 |

| | |
| --- | --- |
| SMS to the Satellite Phone | $FREE |

| | |
| --- | --- |
| Other Satellite Networks | $14.00 |
Inmarsat Isatphone 2 Specs
Isatphone 2 Specifications
Dimensions: 169mm(L) x 52mm(W) x 36mm(D) Weight: 318g (11.02oz) Including Battery Display:
High contrast colour screen Interfaces
Micro USB Audio Socket Antenna Port
Bluetooth 2.0
Water & Dust Ingress Protection
IP65
IK04
Operating Range: 20ºC to +55ºC (-4ºF to +131ºF)
Storage Range: 20ºC to +70ºC (-4ºF to +158ºF) (with battery)
Charging Range: 0ºC to 45ºC (32ºF to 113ºF)
Humidity tolerance: 0 to 95 per cent
BatteryType - Lithium-ion, 3.7 volts
Talk Time - Up to 8 hours
Standby Time - Up to 160 hours
Services Satellite - 2.4kbps voice codec
Telephony - Speakerphone option Voicemail - Speed dial 1 Supplementary voice services
Call history Caller ID
Call waiting
Call divert
Call holding
Conferencing Call barring Speed dialing
Fixed number dialing
Text-to-text
160 Latin / ~74 non-Latin characters Up to 10 concatenations Standard and predictive
Videos and Downloads
Downloads
Isatphone 2 Comparison Sheet