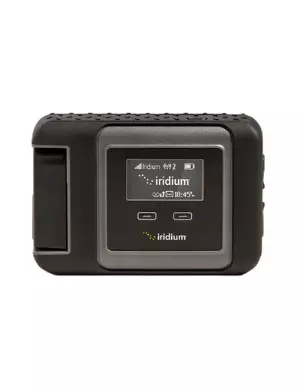 Rental Rates for Iridium Go Satellite Hotspot
(0-14 Days) $23 per day
(15-28 Days) $20 per day
(29 Days+) $18 per day
(3+ Months) $13 per day
Iridium Go! WiFi Hotspot
The Iridium GO! is the newest creation from the experts at Iridium. This is the world's first wifi satellite hotspot.

The Iridium GO! is the only satellite phone device that allows you to connect to the Iridium satellite network via your smartphone or tablet device.

This is Iridium's most compact device with voice and data that up to 5 units can connect to at once. No longer will you require a satellite phone for your trips and adventures around Australia.

Both rugged and portable, the Iridium Go! wifi satellite hotspot allows communication anywhere on the planet.

Wifi Satellite Hotspot Applications

Potential users for the Iridium Go! Global unit might be:
Grey Nomads
Global travellers
Pilots
Sailors
Power boat operators
Trucking companies
Adventures & Explorers
Travel Companies
Trekking Companies
Remote residents and vacationers
Emergency and first response units
Global Enterprises
Executives & Diplomats
Foreign missions
Government & NGO's
Military operations
M2M Applications
Geologists
Anyone who requires voice or data communication whilst outside mobile or landline coverage.
Order through Australia's #1 Sat Phone Equipment Provider

Upgrade your communications with a wifi satellite hotspot device from Iridium. Enjoy more reliable connectivity no matter where you roam in Australia. Get in touch with our team to learn more about our satellite phone equipment and to start your order.


Deal Includes
How easy is the Iridium Go! to Operate?
It takes just a moment to flip up the fully integrated antenna. Within seconds the battery unit powers up and automatically will connect to the one of the 66 Iridium LEO satellites to give you an instant wifi hotspot anywhere on the planet. Radius of use is approximately a 30.5 meter radius.
What is the Iridium Go! versatility?
The global communication range that the Iridium Go! can handle are:
SMS two way
GPS tracking
SOS alert
Access compressed Weather services
Rental handsets don't require an additional plan, Calls made from the phone charged as follows:
| | |
| --- | --- |
| Call Type | Call rate per 30 seconds |
| Calls to Fixed/mobile services in Australia | $1.50 |
| Call forwarding | $1.50 |
| Voicemail | $1.50 |
| SMS | $1.00 per standard text |
| Calls to international | $2.50 |
| Roaming outside Australia – outgoing and incoming calls | $2.50 |
| Other satellite | $10.00 |
Airtime Plans (for purchased handsets)
Prices exclusive of GST

| | |
| --- | --- |
| 100 Minute - 1 Month Validity | $255.00 |
| 200 Minute- 6 Month Validity | $875.00 |
| 300 Minute - 12 Month Validity - not able to be recharged | $1050.00 |
| 500 Minute - 12 Month Validity | $1240.00 |

| | |
| --- | --- |
| Top Ups For 75/500 minutes users only - One Month extension | $90.00 |

| | |
| --- | --- |
| SMS to the Satellite Phone | $FREE |
Iridium Post Paid - Local number plan - 12 month minimum duration
Benefits those who expect to receive calls to the sat phone. (Prices exclusive of GST and call charges are per 60 seconds)

| | |
| --- | --- |
| Activation Fee | $40.00 |
| Monthly Access Fee | $54.55 |
| Flagfall | $0.00 |
| Iridium to PSTN or Mobile per 30 seconds | $0.90 |

| | |
| --- | --- |
| Data Call (within Australia) | $0.90 |

| | |
| --- | --- |
| Outside 200 nm rate (note: incoming calls also charged while overseas) | $1.13 |

| | |
| --- | --- |
| SMS Messaging from the Satellite Phone | $1.00 |

| | |
| --- | --- |
| SMS to the Satellite Phone | $rate determined by originators provider |

| | |
| --- | --- |
| Other Satellite Networks | $12.50 |

| | |
| --- | --- |
| Inbound call to Voicemail | $0.90 |
Iridium Post Paid Global Plan
Full Global rates whilst abroad - (Prices exclusive of GST and call charges are per 30 seconds)

| | |
| --- | --- |
| Activation Fee | $40.00 |
| Monthly Access Fee | $85.00 |
| Flagfall - Connection Charge | $NIL |
| Iridium to PSTN or Mobile * | $1.25 |

| | |
| --- | --- |
| Iridium to other satellite networks | $14.00 |

| | |
| --- | --- |
| SMS to the Satellite Phone | $FREE |
Iridium Go! WiFi Hotspot Specs
Tech specs
Dimensions: 4.5"x 3.25" x 1.25"Durability Specifications:Military-grade ruggedness (MIL-STD 810F) Ingress Protection (IP65)
Easy to Use:Stable, lay-flat design Flip up antenna
Built-in menu/status display
Flexible:Wi-Fi device ready App API for developers
Robust accessory platform
Accessories available (Contact Customer services for availability & Charges)
Spare Battery
Waterproof Pelican case
Videos and Downloads
Downloads