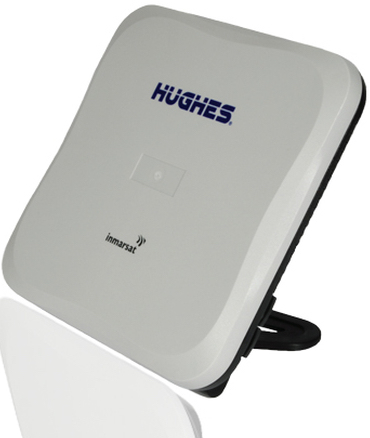 Hughes 9202
Hughes 9202
Satellite Phone & Internet All in one - HUGHES 9202
On-the-Go Voice and Internet The Hughes 9202 unit is an upper level device offering speeds of 492kbps and dedicated streaming speeds of 256kbps. With WiFi satellite hotspot and multiple network connections, it's perfect for first responders, media outlets, defense, and short-term mine site communication requirements.
The Hughes 9202 unit is an upper level device offering speeds of 492kbps and dedicated steaming speeds of 256kbps. With WiFi and multiple network connections its perfect for first responders, media outlets,or defence.
Broadband satellite IP terminal with voice, ISDN, and built-in 802.11 Wi-Fi access point
The reliable and lightweight Hughes 9202 Land Portable Terminal boasts a compact and sleek design.
A budget-friendly and highly attractive class 2 portable terminal, the Hughes 9202 is ideal for governments and NGOs, first responders, public safety and mobile health care workers, and remote personnel in industries such as utility, oil and gas, forestry, cable, and telecommunications.
The Hughes 9202 operates over the Inmarsat Broadband Global Area Network (BGAN) satellite service and provides high performance connectivity and reliability for the most demanding users and extreme conditions. Using the world's smallest class 2 BGAN terminal, users can connect at IP broadband speeds up to 464 kbps, as well as take advantage of such features as built-in multi-user Wi-Fi access and automatic context activation (ACA), including the ability to transmit SMS messages via the integrated user interface (IUI) without a connected laptop, PDA, or other user device.
The Hughes 9202 allows the user to send and receive IP traffic via Ethernet and Wi-Fi. In parallel with the packet data service, the Hughes 9202 supports full ISDN and circuit switched voice and fax calls via a two-line RJ11 plug.
Corporate disaster planners and remote field personnel can collaborate with confidence and efficiency with various agencies and headquarters staff using video, voice, and data simultaneously. As with all Hughes BGAN models, the Hughes 9202 is IP-based, delivering selectable, dedicated Quality of Service (QoS) levels.
Features
Main Features
Rugged and durable IP55 rating
Backlit LCD user display including four-button control
Wi-Fi inside supporting multi-user access
Two-line RJ11 for voice and fax
Full ISDN support including Unrestricted Digital
Information (UDI)
Advanced integrated user interface (IUI)
Automatic Context Activation (ACA)
XL-band ready
Interfaces
Ethernet connection (RJ45)
ISDN connection (RJ45)
Two-line RJ11 for voice and fax
Compass and audio tone to assist in antenna pointing
Package Contents
Hughes 9202 Land Portable Terminal
Rechargeable lithium ion battery pack
6 ft. Ethernet cable
AC/DC adaptor with UK, EU, and US power cables
Optional Accessories
DC-DC adapter
Deal Includes
The Hughes 9202 gives you access to:
Internet
E-mail
Voice calls
Streaming services up to 256kbps
WiFi
Multiple simultanious devise access

...and much more
Choose the Best of the Best all in one Sat Phone & Internet Device
The Hughes 9202 is one of the first choices for first responders and media outlets. By offering everything you could need for satellite phone and Internet usage in the one package, the Hughes 9202 has made it a market leader.
Your Rental Package Includes:
Wall Charger
Ethernet Cable
Car Charger
User Guide
All packaged in a Pelican 1400 shock/water proof case
Why You May Need the Hughes 9202
Sat phone and Internet products can be essential for travelers, business needs, rescue operations, and maritime applications. The Hughes 9202 may be ideal for combining satellite phone and Internet features to keep you connected no matter where you go in Australia. Talk to the team at RASP about whether this is the best device for your needs.
Internet rental rates through RASP are as follows:
(0-14 Days) $35 per day
(15-28 Days) $25 per day
(29 Days+) $21 per day
(3+ Months) $15 per day
Order through Rent a Satellite Phone Today
RASP makes it easier than ever to rent sat phone devices, including the Hughes 9202. Book now through our secure online platform or contact us to make a booking over the phone.
Rental handsets don't require an additional plan, Calls made from the phone charged as follows:
| | |
| --- | --- |
| Call Type | Call rate per 30 seconds |
| Calls to Fixed/mobile services in Australia | $1.50 |
| Call forwarding | $1.50 |
| Voicemail | $1.50 |
| SMS | $1.00 per standard text |
| Calls to international | $2.50 |
| Roaming outside Australia – outgoing and incoming calls | $2.50 |
| Other satellite | $10.00 |
Airtime Plans (for purchased handsets)
Prices exclusive of GST

| | |
| --- | --- |
| 75 Minute - 1 Month Validity | $229.00 |
| 200 Minute- 6 Month Validity | $675.00 |
| 300 Minute - 12 Month Validity - not able to be recharged | $850.00 |
| 500 Minute - 12 Month Validity | $1120.00 |

| | |
| --- | --- |
| Top Ups For 75/500 minutes users only - One Month extension | $75.00 |

| | |
| --- | --- |
| SMS to the Satellite Phone | $FREE |
Iridium Post Paid - Local number plan - 12 month minimum duration
Benefits those who expect to receive calls to the sat phone. (Prices exclusive of GST and call charges are per 60 seconds)

| | |
| --- | --- |
| Activation Fee | $40.00 |
| Monthly Access Fee | $45.45 |
| Flagfall | $0.45 |
| Iridium to PSTN or Mobile per 30 seconds | $0.90 |

| | |
| --- | --- |
| Data Call (within Australia) | $0.90 |

| | |
| --- | --- |
| Outside 200 nm rate (note: incoming calls also charged while overseas) | $1.13 |

| | |
| --- | --- |
| SMS Messaging from the Satellite Phone | $1.00 |

| | |
| --- | --- |
| SMS to the Satellite Phone | $rate determined by originators provider |

| | |
| --- | --- |
| Other Satellite Networks | $12.50 |

| | |
| --- | --- |
| Inbound call to Voicemail | $0.90 |
Iridium Postpaid Aust-50 Plan 12 month minimum
Plans at a glance (Prices exclusive of GST and call charges are per 30 seconds)

| | |
| --- | --- |
| Activation Fee | $50.00 |
| Monthly Access Fee | $50.00 |
| Flagfall | $Nil |
| Iridium to PSTN or Mobile | $0.90 |

| | |
| --- | --- |
| Call forwarding to Fixed | $0.90 |

| | |
| --- | --- |
| Call forwarding to Iridium | $0.90 |

| | |
| --- | --- |
| Outside 200nm rate | $Not Possible |

| | |
| --- | --- |
| Two stage dialing (Fixed to Iridium) | $1.75 |

| | |
| --- | --- |
| SMS to the Satellite Phone | $FREE |

| | |
| --- | --- |
| Iridium to other satellite networks | $14.00 |
Iridium Post Paid Global Plan
Full Global rates whilst abroad - (Prices exclusive of GST and call charges are per 30 seconds)

| | |
| --- | --- |
| Activation Fee | $40.00 |
| Monthly Access Fee | $70.00 |
| Flagfall - Connection Charge | $NIL |
| Iridium to PSTN or Mobile * | $1.25 |

| | |
| --- | --- |
| text8: SMS Message | $1.00 |

| | |
| --- | --- |
| Iridium to other satellite networks | $14.00 |

| | |
| --- | --- |
| SMS to the Satellite Phone | $FREE |
Specs Heading
Technical Specifications
Satellite TX Frequency:1626.5–1660.5 and 1668–1675 MHz
Satellite RX Frequency :1518–1559 MHz
GPS Frequency :1574.42–1576.42 MHz
SAT Continuous TX Time: Up to 3.25 hours at 128 kbps
SAT Continuous RX Time: Up to 5.5 hours at 128 kbps Up to 36 hours
SAT Standby Time Weight: Up to 36 hours
Weight: 1.4 Kg (3.13 lbs)
Dimensions: Terminal:
216 mm x 216 mm x 41 mm (8.5" x 8.5" x 1.61")
Stand :149.5 mm x 121.5 mm x 9.3 mm (5.88" x 4.78" x 0.36")
Operating Temperature: -5 ̊ C to +55 ̊ C with battery -25 ̊ C to + 60 C with DC supply
Battery Charging temperature : 0 ̊ C to +40 ̊ C
Storage Temperature: -20 ̊ C to +60 ̊ C with battery -25 ̊ C to +80 ̊ C excluding batter
Humidity: 95% RH at +40
Wind:Operational wind loading (with stand secured to ground) 40 km/h (25 mph)
Water and Dust: IP-55 Compliant
Non-operational Mechanical Vibration: 200–2000 Hz, 0.3 m2/s3; MIL-SPEC 810B METHOD 500.3 procedure 1
Data Connectivity: RJ45 connector Two-line RJ11 for voice and fax 802.11 WLAN RJ45 connector (ISDN) voice and data
Other Features: Rechargeable lithium ion battery SIM/USIM Slot (behind battery) 1⁄4 inch UNC threaded hole for tripod mounting Compass to assist pointing
Videos and Downloads
Downloads
Hughes 9202 Spec Sheet download
Upgrader User instructions Mac