Real Life Emergency In Tasman Sea results in rescue Mission with Satellite Phone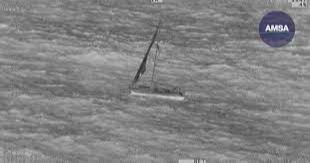 Tasman Sea: what happening as rescue mission launched for two Australian sailors trapped on damaged yacht.
Email from Judie McEnallay -Wife of Rescued Sailor to Rent A Satphone.

Hi Steve
Not sure whether you've seen the Tasman rescue unfolding on the news but unfortunately that is my husband and our yacht Aviva. They are now both safe and well aboard the Police Vessel Nemesis en route to Sydney and expected late tonight. The sat phone is intact and I will return tomorrow.
I just wanted to let you know what a lifeline it was to have this with the boys. They were still able to contact us throughout their ordeal and I was able to pass on vital information to AMSA. If you want to get some publicity for your company, we will be happy to provide some praise for your excellent service.
Report from nationalworld.com A rescue mission is underway in the Tasman Sea after two Australian sailors and their yacht ran into trouble.
The pair, who are both aged in their 70s, were sailing from New Zealand toAustralia when they ran into stormy weather and have been stranded off the coast of Australia's Lord Howe Island for almost 36 hours.
The Australian Maritime Safety Authority (AMSA) are working hard to bring them to safety. ASMA has reassured the public that it is providing "overhead visual reassurance". Here's everything you need to know about the rescue mission and what has happened to their yacht.
What happened in the Tasman Sea?
Two sailors, who are believed to be from Australia, have gotten into difficulty in the Tasman Sea. The pair, who are both in their 70s, were travelling on a 14.2 metre yacht, which is named Aviva. Severe weather hit the area during the early house of Monday (September 5) morning, with storm surges and 10 metre high seas battering their yacht.
The ASMA's Response Centre was alerted to the incident at 3am Australian Eastern Standard Time (AEST), by a family member who had been contacted by the pair and been told their boat had suffered damage to its steering and was taking in water.
Image above supplied by AMSA :